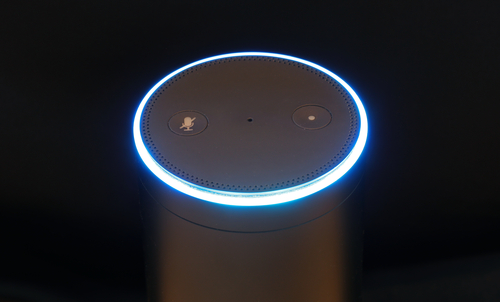 The Amazon Echo device, which incorporates the Alexa digital assistant technology.
( Shutterstock )
The city of Los Angeles is now offering government information through Amazon Alexa, the online retailer's voice-activated digital assistant used across the company's apps and devices. The skill will allow Alexa users to verbally access information about the city.
Although government sometimes has a reputation for being slow to adopt technology, Utah and Mississippi have already begun using similar Alexa programs to allow residents to study for a driver's license test or look up city phone numbers.
The city's website describes the effort as another way for residents to access city information. Once the skill is enabled on an Alexa-enabled device, by saying, "Alexa, enable L.A. City skill," residents can simply ask a question instead of having to find the correct phone number or directory.
Currently the Los Angeles system accesses calendar events, City Council and council committee information. Plans also are in place to add to the amount of information available through Alexa.
Launched in January, the skill was created by the Los Angeles Information Technology Agency and will eventually include 311, a city service where residents can request services or report problems. The city's 311 currently available online, by phone and through an app.
Although Los Angeles is among the first cities to harness the voice-activated capability, more might follow, especially now that Amazon Wireless Services (AWS) has offered designers the ability to build and host skills, mostly for free.
The city of Los Angeles also plans to release Cortana, Google and Siri software that will access the same information as Alexa. Alexa is now available on iOS systems inside the Amazon shopping app, which some have predicted may take over Siri's functionality.

L.A. officials did not immediately respond to Techwire's request for comment about the Alexa project.