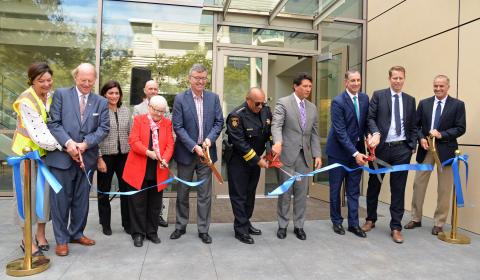 San Mateo County is moving apace on its new Regional Operations Center (ROC), a $64.5 million facility that will house a secure data center as well as the Sheriff's Office of Emergency Services and the county's 911 dispatch center.
The new building is seismically stabilized and is equipped to operate for seven days without power from PG&E or water from the city.
A county news release quotes Supervisor Carole Groom as saying: "In San Mateo County, our community will be safer because of this modern facility and the fact that now we have a unified command center. One of this innovative building's highlights is its ability to house folks with very stressful jobs into working conditions that are lighter and more relaxed."
The ROC, on the County Center campus in Redwood City, is the largest project funded by Measure K, the countywide half-cent sales tax. Construction began in 2016.
"This center is not only built to stand the test of time, but also the test of natural and man-made disasters," said County Manager Mike Callagy. "Thank you to the voters as well as every individual, department and agency that helped bring this county priority to fruition."
Departments will move into the ROC in coming months, beginning with Public Safety Communications in October, followed by the Sheriff's Office of Emergency Services.
The county noted some highlights of the new two-story facility:
It encompasses 37,000 square feet
It's stabilized by 354 columns sunk 40 feet into the ground for seismic stability
It can operate for up to seven days without outside power or water
Construction and landscaping will be certified LEED Silver by the U.S. Green Building Council
It has a small gym for employee wellness
It features increased meeting and flexible space for Human Resources training and other uses
The county website has a section devoted to the Information Services Department that includes budget information and performance metrics.