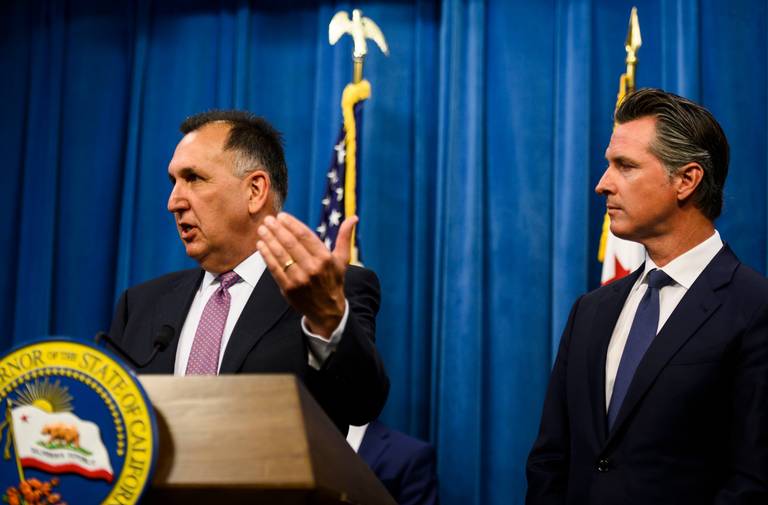 The California Department of Motor Vehicles is continuing to roll out new online services as part of its ongoing effort to transition to more digital options for those doing business with the agency. A simplified login process and the availability of more 24-hour-a-day online services is the newest addition, announced Wednesday.
"The DMV is transforming our business model from paper-based to digital," DMV Director Steve Gordon said in a news release. "We are making interacting with the DMV easier for our customers and going green with a more mobile customer experience."
The DMV has been working for more than a year to reduce wait times by enabling the public to complete transactions online rather than having to visit an office. The shift from paper-based to online digital services is also intended to make it easier for Californians who want a Real ID, the enhanced identification that requires an in-person visit to obtain. A Real ID or a passport will be required under federal law for those seeking to fly domestically, beginning in October. The DMV hopes that expanding the availability of online services — driver's license renewals, address changes and the like — will reduce in-person traffic at DMV offices.
The online services that require a DMV login include changing an address, renewing a driver license or ID card, and requesting a driver or vehicle record. Customers who previously had an online account with DMV will have to re-register, but the agency says, "The new process to conduct DMV business online is easy to use and offers instant verification."
Soon, the agency plans to add online capability for those seeking to replace a lost, stolen or damaged driver's license or ID card. It will also add the ability to obtain or renew certain occupational licenses required under state law.
"Moving transactions out of the field office creates more capacity for processing Real IDs, which is especially important as the federal enforcement date in October approaches," Gordon said. "To that end, the DMV is creating and promoting more channels for transactions that can be accomplished outside a field office."
DMV is also continuing to add ways for customers to get help online, saving them a trip to the DMV or long periods on hold when calling.
"Interacting with DMV has been made easier with the addition of Miles, the online chatbot, and a live chat option during business hours," the DMV said in Wednesday's announcement. "The DMV plans to unveil a completely redesigned website this spring that will also enhance the online customer experience."
The agency has also rolled out "DMV Anytime," an online resource of businesses and other non-DMV entities where some transactions can be performed in person or online, rather than at a DMV office.
Overhauling the DMV was among the priorities of Gov. Gavin Newsom when he was inaugurated last year. He appointed Gordon in July, and the agency immediately began engaging vendors in the new RFI2 procurement process.