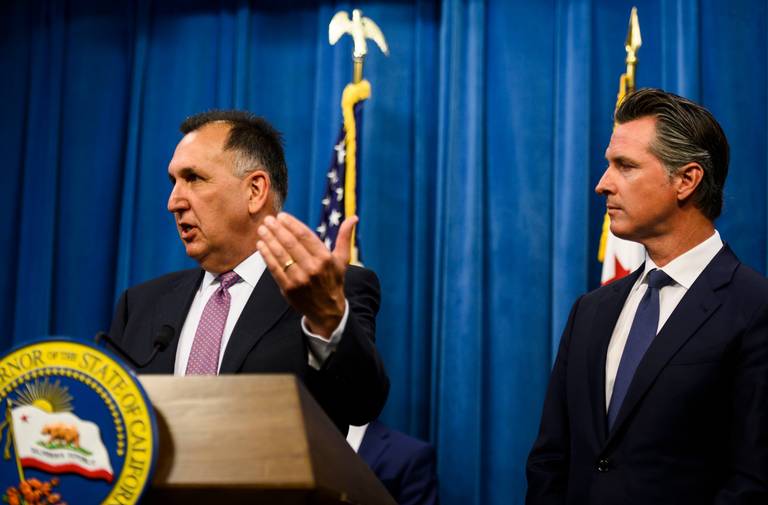 The California Department of Motor Vehicles announced Wednesday that it will begin accepting credit cards for payment at its office in Davis next week.
This is a significant step toward the overhaul promised by Gov. Gavin Newsom when he took office in January. Accepting credit cards was also on the short list of recommendations of the DMV Strike Force, which Newsom created and placed under the leadership of Marybel Batjer, who was then secretary of the state Government Operations Agency (GovOps). After Batjer's team investigated and made a list of recommendations — including acceptance of credit cards for DMV transactions — Newsom named her president of the California Public Utilities Commission.
Batjer's Strike Team included a dozen other GovOps officials including Angelica Quirarte, GovOps assistant secretary for digital engagement; and Stuart Drown, GovOps deputy secretary for innovation and accountability. GovOps also worked with 11 DMV officials, 13 other named officials across four agencies including the California Department of Technology; and 16 other state departments.
The Davis field office will, beginning Monday, accept Visa, MasterCard, American Express and Discover cards, or debit cards with a Visa or MasterCard logo.
In coming weeks, the rollout will include the DMV offices in Fresno, Victorville and Roseville. Full implementation of the program is expected in all field offices by early 2020.
The DMV's newly named director, Steve Gordon, described the move to allow credit transactions as "one more way we are improving the customer experience at the DMV."
The department said in a news release Wednesday: "In alignment with how other departments process credit and debit card transactions, DMV customers will be charged a 2.3 percent service fee when using this payment option at a field office. Customers who pay via cash, check or money order will not be charged a service fee. While accepting credit cards is a new payment option offered at field offices, the DMV has been allowing customers to use credit and debit cards to complete transactions online, by phone and at DMV Now kiosks. Beginning (Sunday), these transactions will be charged a service fee of 2.1 percent."
Gordon, a San Jose resident, was brought in as director in July. He worked for Cisco Systems from 1993 to 2011, leaving as vice president of Technical Services. Gordon then founded MySeatFinder in 2008, and was a managing partner for zTransforms from 2018 to 2019. The previous longtime DMV director, Jean Shiomoto, retired in December, capping a tumultuous year in which DMV wait times and problems with Motor Voter and Real ID implementation left the department reeling.
Since Batjer's team delivered its report, the DMV has issued a flurry of vendor solicitations, including a contract awarded July 8 to Ohio-based electronic payment solution company First Data Government Solutions to enable acceptance of card payments. The DMV awarded a contract June 14 to website and Web tool provider 10up, which has global offices and locations in San Francisco and Los Angeles, for a "complete overhaul" of its website.
Also noteworthy were two contracts awards in late June — one to IBM and one to CGI, which the department said would enable "much needed stabilization efforts." Those contracts were characterized as foundational to DMV hardware and software updates; to streamlining operations needed for stabilization during an outage; and to the rollout of monitoring tools to manage critical systems and reduce the risk of field office systems outages. The agency has also added an IT special consultant to look at DMV systems and modernize where possible.
The state committed $1.36 billion to DMV in the new 2019-2020 fiscal year budget, an increase of $242 million, according to a Techwire report in July. Around $8.3 million of that will fund 200 new DMV Now self-serve kiosks. The Strike Team recommended increasing their usage "to move transactions out of the field offices." The agency last month debuted a chatbot on its website and plans to implement live chat at its call center in early 2020, adding 89 positions to expand "call center usability."